Product Description
NM COUPLING COMPLETE SET WITH RUBBER SPIDER NM67
Description 
NM couplings are offered in the industry's largest variety of stock bore/keyway combinations. These couplings require no lubrication and provide highly reliable service for light, medium, and heavy duty electrical motor and internal combustion power transmission applications. Applications include power transmission to industrial equipment such as pumps, gear boxes, compressors, blowers, mixers, and conveyors.
Operating Conditions
NM coupling consists of 2 hubs and flexible ring able to compensate all types of shaft misalignments. The flexible rings are made of Nitile rubber (NBR) which have a high internal damping characteristic which enable to absorb and dampen torsional vibrations, operate effectively in temperature range of -40 °C to +100 °C. The NBR material also resists to oil, dirt, grease, moisture, CHINAMFG and many chemical solvents.
 Feartures:
TYPE – NM
 
| | |
| --- | --- |
| Standard Or Nonstandard: | Standard |
| Shaft Hole: | 19-32 |
| Torque: | >80N.M |
| Bore Diameter: | 19mm |
| Speed: | 4000r/M |
| Structure: | Flexible |
Samples:

US$ 20/Piece

1 Piece(Min.Order)

|
Request Sample
Customization:

Available

|

Customized Request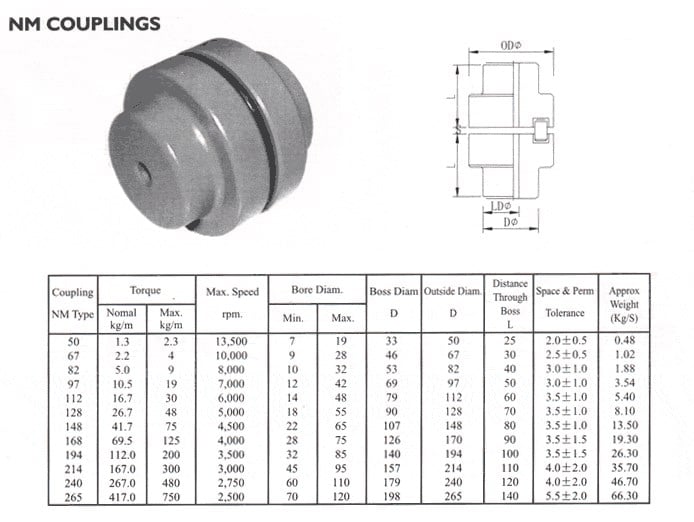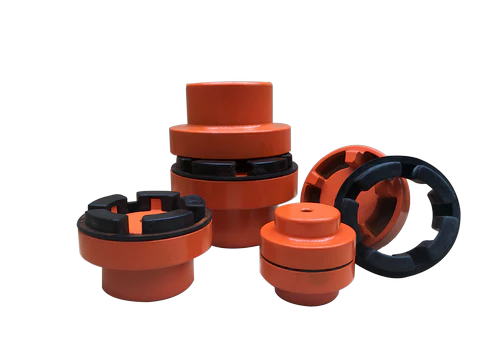 What industries commonly use flexible couplings for power transmission?
Flexible couplings are widely used in various industries for power transmission and motion control applications. Their ability to accommodate misalignment, dampen vibrations, and protect equipment from shock loads makes them valuable components in many industrial processes. Here are some of the industries that commonly utilize flexible couplings:
Manufacturing: Flexible couplings are extensively used in manufacturing industries such as automotive, aerospace, electronics, and consumer goods production. They play a critical role in transmitting power between motors and various machinery, including conveyor systems, robots, and assembly lines.
Oil and Gas: In the oil and gas industry, flexible couplings are used in pumps, compressors, turbines, and generators. They help transfer power in offshore platforms, refineries, pipelines, and drilling operations while compensating for the dynamic nature of these applications.
Power Generation: Power plants, both conventional and renewable, rely on flexible couplings to transmit power from turbines and generators to electrical generators. They are used in coal-fired, natural gas, nuclear, hydroelectric, and wind power plants.
Mining: In mining operations, flexible couplings are employed in various equipment, including conveyor systems, crushers, and large industrial pumps. They are designed to withstand the heavy loads and harsh conditions commonly found in mining environments.
Marine: Flexible couplings are essential in marine propulsion systems, connecting engines to propellers or water jets. They also find use in shipboard machinery, auxiliary systems, and offshore applications.
Pulp and Paper: The pulp and paper industry relies on flexible couplings in machinery used for wood processing, pulp production, papermaking, and printing processes.
Chemical and Petrochemical: In chemical plants and petrochemical refineries, flexible couplings are utilized in pumps, mixers, agitators, and other rotating equipment to ensure efficient power transmission and protect sensitive machinery.
Construction: The construction industry employs flexible couplings in various equipment, such as concrete pumps, cranes, excavators, and drilling machines.
Water and Wastewater: Flexible couplings are used in water treatment plants, wastewater facilities, and irrigation systems to transfer power between motors and pumps.
Agriculture: In agricultural machinery, flexible couplings are utilized in tractors, harvesters, and irrigation systems, enabling efficient power transmission and operation.
The versatility and adaptability of flexible couplings make them indispensable components in a wide range of industries, contributing to increased equipment reliability, reduced downtime, and improved overall system performance.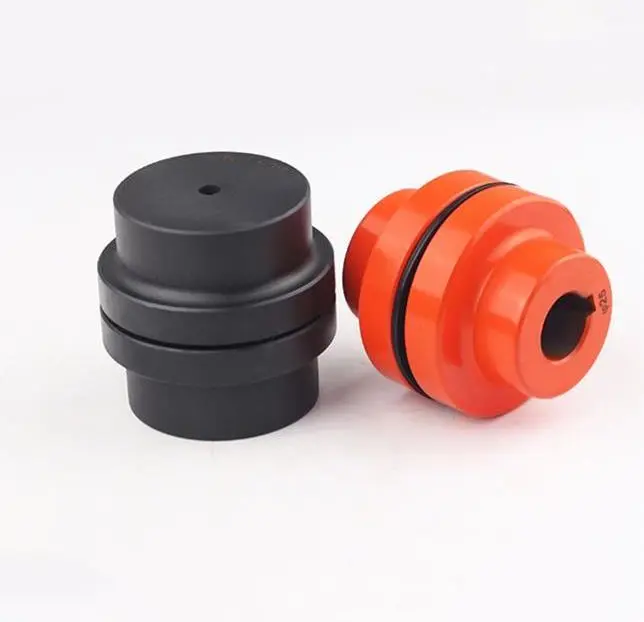 What role does a flexible coupling play in reducing downtime and maintenance costs?
A flexible coupling plays a significant role in reducing downtime and maintenance costs in industrial machinery and rotating equipment. Here are the key ways in which flexible couplings contribute to these benefits:
Misalignment Compensation: One of the primary functions of a flexible coupling is to accommodate misalignment between two connected shafts. Misalignment can occur due to various factors such as thermal expansion, foundation settling, or manufacturing tolerances. By allowing for misalignment, flexible couplings reduce the transmission of harmful forces and stresses to connected components, minimizing wear and preventing premature failures that could lead to costly downtime and repairs.
Vibration Damping: Flexible couplings have inherent damping properties due to the elastomeric or flexible elements they incorporate. These elements absorb and dissipate vibration and shock loads that may arise from the operation of rotating machinery. By dampening vibrations, flexible couplings protect the connected equipment from excessive wear and fatigue, extending their service life and reducing the need for frequent maintenance or replacement.
Shock Load Absorption: In applications where sudden loads or shocks are common, such as in heavy machinery or high-speed equipment, flexible couplings act as shock absorbers. They can absorb and dissipate the impact energy, preventing damage to the machinery and minimizing downtime caused by unexpected failures or breakdowns.
Easy Installation and Alignment: Flexible couplings are designed for ease of installation and alignment. Unlike rigid couplings that require precise shaft alignment, flexible couplings can tolerate some degree of misalignment during installation. This feature simplifies the setup process, reduces installation time, and lowers the risk of misalignment-related issues, ultimately minimizing downtime during initial installation or replacement of couplings.
Reduced Maintenance Frequency: The ability of flexible couplings to handle misalignment and dampen vibrations results in reduced wear on bearings, seals, and other connected components. Consequently, the frequency of maintenance intervals can be extended, reducing the need for frequent inspections and component replacements. This directly translates to lower maintenance costs and less downtime for maintenance tasks.
Equipment Protection: By reducing the transmission of shock loads and vibrations, flexible couplings act as protective barriers for connected equipment. They help prevent catastrophic failures and subsequent damage to expensive machinery, avoiding unplanned shutdowns and costly repairs.
Overall, flexible couplings are critical components that improve the reliability and longevity of rotating equipment. Their ability to handle misalignment, dampen vibrations, and protect against shock loads contributes to reduced downtime, lower maintenance costs, and increased productivity in industrial applications.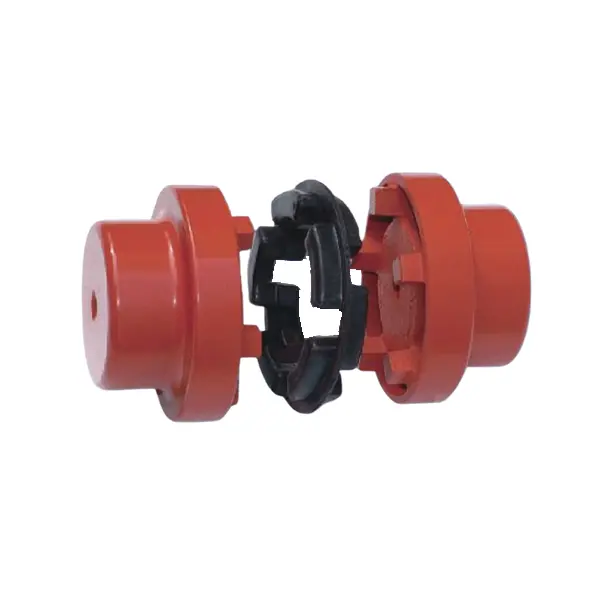 What materials are commonly used in manufacturing flexible couplings?
Flexible couplings are manufactured using a variety of materials, each offering different properties and characteristics suited for specific applications. The choice of material depends on factors such as the application's requirements, environmental conditions, torque capacity, and desired flexibility. Here are some of the commonly used materials in manufacturing flexible couplings:
Steel: Steel is a widely used material in flexible couplings due to its strength, durability, and excellent torque transmission capabilities. Steel couplings are suitable for heavy-duty industrial applications with high torque requirements and harsh operating conditions.
Stainless Steel: Stainless steel is often used to manufacture flexible couplings in environments with high corrosion potential. Stainless steel couplings offer excellent resistance to rust and other corrosive elements, making them ideal for marine, food processing, and chemical industry applications.
Aluminum: Aluminum couplings are lightweight, have low inertia, and provide excellent balance. They are commonly used in applications where reducing weight is critical, such as aerospace and robotics.
Brass: Brass couplings are known for their electrical conductivity and are used in applications where electrical grounding or electrical isolation is required, such as in certain industrial machinery or electronics equipment.
Cast Iron: Cast iron couplings offer good strength and durability and are often used in industrial applications where resistance to shock loads and vibrations is necessary.
Plastic/Polymer: Some flexible couplings use high-performance polymers or plastics, such as polyurethane or nylon. These materials provide good flexibility, low friction, and resistance to chemicals. Plastic couplings are suitable for applications where corrosion resistance and lightweight are essential.
Elastomers: Elastomers are used as the flexible elements in many flexible couplings. Materials like natural rubber, neoprene, or urethane are commonly used as elastomer spider elements, providing flexibility and vibration damping properties.
The selection of the coupling material depends on the specific needs of the application. For instance, high-performance and heavy-duty applications may require steel or stainless steel couplings for their robustness, while applications where weight reduction is crucial may benefit from aluminum or polymer couplings. Additionally, the choice of material is influenced by factors such as temperature range, chemical exposure, and electrical requirements in the application's operating environment.
Manufacturers typically provide material specifications for their couplings, helping users make informed decisions based on the specific demands of their applications.



editor by CX 2023-10-07