Product Description
NM Coupling, NM Rubber Coupling Elements, NM Rubber Spider
| | | | |
| --- | --- | --- | --- |
| Material: | NBR, CSM/SBR | Color: | Black |
| Tensile Strength: | 12Mpa | Hardness: | 80shore A |
| Elongation: | 350% | Density: | 1.25g/cm3 |
| Size: | NM50, NM67, NM82, NM97, NM112, NM128, NM148, NM168, NM194, NM214, NM240, NM265 |   |   |
 
NM coupling
NM type is precisely produced by a special designed synthetic rubber with 2 similar bodies of cast iron
Cast iron flanges:
Designed not only for the power transmission but also for protection of flexible rubber
Flexible rubber:Applications for pumps, fans, compressors, vehicles, transporting equipments, constructors, cement mixers, tractors, transmission machines, metal working machines, rollers and all other transmissions
Made of rubber and steel cores are inserted in the teeth so as to provide excellent durability and performance of coupling
 
Features:
Economical and practical using
Quiet and smooth operation
Easy installation and maintenance
Available to machines with high torque and intermittent operation
Characteristics of the synthetic rubber: proper elasticity and resistance to damping, oil, acids and alkalie
 
Specifications:
1: with CE certificate 
2: full detection of quality before delivery 
3: OEM is welcomed 
4: rich experience in precision casting
material: CSM/SBR, NBR
color: black.
surface: smooth
tensile strength: 12Mpa
hardness: 80Shore A
elongation: 400%
density: 1.25g/cm3
elasticity impact: >25%
tear strength: 35KN/m
working temperature: 100oC
standard size: 
NM50, NM67, NM82, NM97, NM112, NM128, NM148, NM168, NM194, NM214, NM240, NM265
Physical character: made by injection with high quality polyester or mould CSM/SBR. It is designing and special for all kinds of metal shaft coupling with very good performance of high tensile strength, high wear resistant, high elastic resilience, water resistant, oil resistant and excellent fatigue resilience, high impact resistant etc. We have full sets moulds and supply full range of GR, GS, MT, Hb, HRC, L, NM and Gear J series couplings with high quality and excellent experience. Apply to all kinds of industrial metal shaft coupling.
Specifications:
material: polyester, CSM/SBR
color: yellow, red, purple, green, black etc.
surface: smooth
tensile strength: 12-55Mpa
hardness: 80-98Shore A
elongation: 400%-650%
density: 1.25g/cm3
elasticity impact: >25%
tear strength: 35-155KN/m
akron abrasion loss: <0.05cm3/1.61km
compression set (22h*70oC): <10%
working temperature: 120oC
standard size for polyurethane coupling: 
GR14, GR19, GR24, GR28, GR38, GR42, GR48, GR55, GR65, GR75, GR90, GR100, GR110, GR125, GR140, GR160, GR180
MT1, MT2, MT3, MT4, MT5, MT6, MT7, MT8, MT9, MT10, MT11, MT12, MT13
HRC70, HRC90, HRC110, HRC130, HRC150, HRC180, HRC230, HRC280
L35, L50, L70, L75, L90/95, L99/100, L110, L150, L190, L225, L276
FALK-R 10R, 20R, 30R, 40R, 50R, 60R, 70R, 80R
standard size for rubber coupling:
Hb80, Hb95, Hb110, Hb125, Hb140, Hb160, Hb180, Hb200, Hb240, Hb280, Hb315
HRC70, HRC90, HRC110, HRC130, HRC150, HRC180, HRC230, HRC280
L35, L50, L70, L75, L90/95, L99/100, L110, L150, L190, L225
NM50, NM67, NM82, NM97, NM112, NM128, NM148, NM168, NM194, NM214, NM240, NM265
Gear 3J, 4J, 5J, 6J, 7J, 8J, 9J, 10J, 11J
special size build molding according to the buyer's drawings
***when you enquiry, pls confirm product's number and quantity***
| | |
| --- | --- |
| Standard: | DIN, ANSI, GB |
| Material: | Nr+SBR |
| Connection: | Flange |
| Surface Treatment: | Nothing |
| Head Type: | Round |
| Elongation: | 350% |
Samples:

US$ 10/Piece

1 Piece(Min.Order)

|
Request Sample
Customization:

Available

|

Customized Request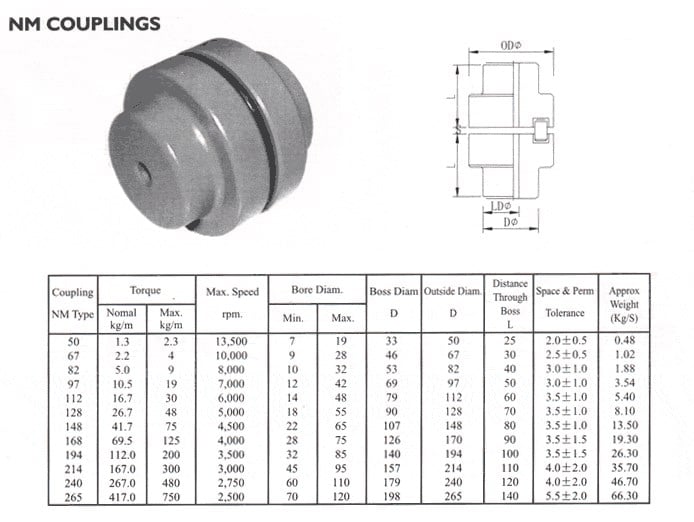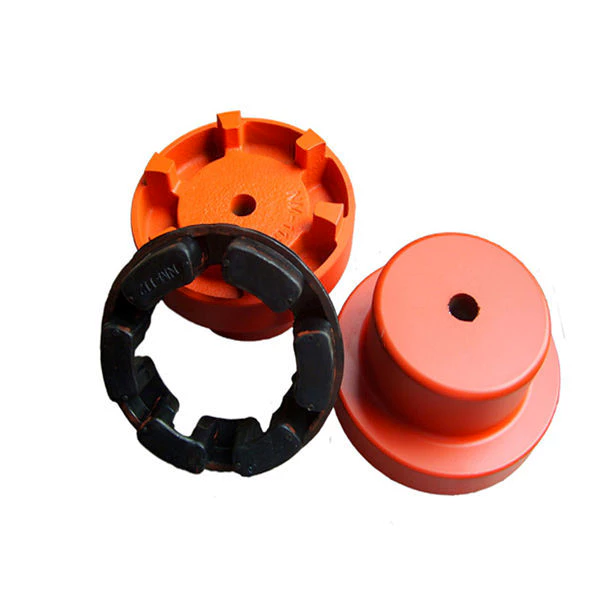 What are the maintenance requirements for flexible couplings?
Maintenance of flexible couplings is essential to ensure their reliable and efficient performance over their service life. Proper maintenance helps prevent premature wear, reduces the risk of unexpected failures, and extends the lifespan of the couplings. Here are some key maintenance requirements for flexible couplings:
Regular Inspection: Perform regular visual inspections of the flexible couplings to check for signs of wear, damage, or misalignment. Look for cracks, tears, or any other visible issues in the coupling components.
Lubrication: Some flexible couplings, especially those with moving parts or sliding surfaces, may require periodic lubrication. Follow the manufacturer's recommendations regarding the type and frequency of lubrication to ensure smooth operation.
Alignment Checks: Misalignment is a common cause of coupling failure. Regularly check the alignment of the connected shafts and adjust as necessary. Proper alignment reduces stress on the coupling and improves power transmission efficiency.
Torque Monitoring: Monitoring the torque transmitted through the coupling can help detect any abnormal or excessive loads. If the coupling is subjected to loads beyond its rated capacity, it may lead to premature failure.
Environmental Protection: If the couplings are exposed to harsh environmental conditions, take measures to protect them from dust, dirt, moisture, and corrosive substances. Consider using protective covers or seals to shield the couplings from potential contaminants.
Temperature Considerations: Ensure that the operating temperature of the flexible coupling is within its designed range. Excessive heat can accelerate wear, while extremely low temperatures may affect the flexibility of certain coupling materials.
Replace Worn or Damaged Parts: If any components of the flexible coupling show signs of wear or damage, replace them promptly with genuine replacement parts from the manufacturer.
Manufacturer's Guidelines: Follow the maintenance guidelines provided by the coupling manufacturer. They often include specific maintenance intervals and procedures tailored to the coupling's design and materials.
Training and Expertise: Ensure that maintenance personnel have the necessary training and expertise to inspect and maintain the flexible couplings properly. Improper maintenance practices can lead to further issues and compromise the coupling's performance.
By adhering to these maintenance requirements, you can maximize the service life of the flexible couplings and minimize the risk of unexpected downtime or costly repairs. Regular maintenance helps maintain the efficiency and reliability of the coupling in various industrial, automotive, and machinery applications.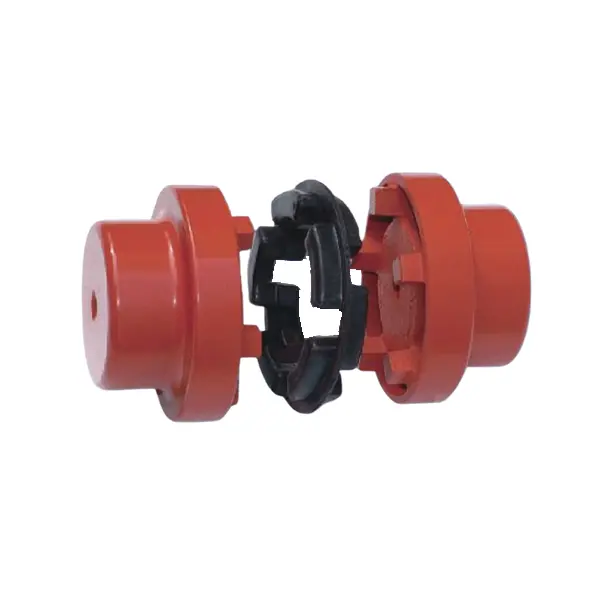 Can flexible couplings be used in corrosive or harsh environments?
Yes, flexible couplings can be designed and selected to be used in corrosive or harsh environments. The choice of materials and coatings plays a crucial role in ensuring the coupling's durability and performance under challenging conditions.
Corrosion-Resistant Materials:
In corrosive environments, it is essential to use materials that can withstand chemical attacks and oxidation. Stainless steel, specifically grades like 316 or 17-4 PH, is commonly chosen for flexible couplings in such situations. Stainless steel offers excellent corrosion resistance, making it suitable for applications where the coupling may come into contact with corrosive substances or moisture.
Special Coatings:
For certain harsh environments, coupling manufacturers may apply special coatings to enhance the coupling's corrosion resistance. Examples of coatings include zinc plating, nickel plating, or epoxy coatings. These coatings provide an additional layer of protection against corrosive agents and help extend the coupling's lifespan.
Sealed Designs:
In environments where the coupling is exposed to contaminants like dust, dirt, or moisture, sealed designs are preferred. Sealed flexible couplings prevent these substances from entering the coupling's internal components, thus reducing the risk of corrosion and wear. The sealed design also helps to maintain the coupling's performance over time in challenging conditions.
High-Temperature Applications:
For harsh environments with high temperatures, flexible couplings made from high-temperature resistant materials, such as certain heat-resistant stainless steels or superalloys, can be used. These materials retain their mechanical properties and corrosion resistance even at elevated temperatures.
Chemical Resistance:
For applications where the coupling might encounter chemicals or solvents, it is essential to select a coupling material that is chemically resistant. This prevents degradation and ensures the coupling's integrity in such environments.
Specialized Designs:
In some cases, where the environment is exceptionally harsh or unique, custom-designed flexible couplings may be necessary. Engineering a coupling to meet the specific demands of the environment ensures optimal performance and reliability.
Consultation with Manufacturers:
When considering flexible couplings for corrosive or harsh environments, it is advisable to consult with coupling manufacturers or engineering experts. They can provide valuable insights and recommend suitable materials, coatings, and designs based on the specific operating conditions.
Summary:
Flexible couplings can indeed be used in corrosive or harsh environments, provided the appropriate materials, coatings, and designs are chosen. Stainless steel, sealed designs, and special coatings are some of the solutions that enhance the coupling's corrosion resistance and performance. It is essential to consider the specific environment and application requirements when selecting a flexible coupling to ensure optimal functionality and durability in challenging conditions.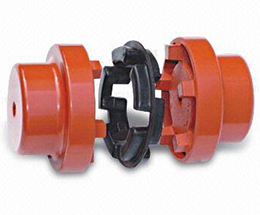 What is a flexible coupling and how does it work?
A flexible coupling is a mechanical device used to connect two shafts while allowing for relative movement between them. It is designed to transmit torque from one shaft to another while compensating for misalignment, vibration, and shock. Flexible couplings are essential components in various rotating machinery and systems, as they help protect the connected equipment and enhance overall performance.
Types of Flexible Couplings:
There are several types of flexible couplings, each with its unique design and characteristics. Some common types include:
Jaw Couplings: Jaw couplings feature elastomer spiders that fit between two hubs. They can accommodate angular and parallel misalignment while dampening vibrations.
Disc Couplings: Disc couplings use thin metallic discs to connect the shafts. They are highly flexible and provide excellent misalignment compensation.
Gear Couplings: Gear couplings use gear teeth to transmit torque. They offer high torque capacity and can handle moderate misalignment.
Beam Couplings: Beam couplings use a single piece of flexible material, such as a metal beam, to transmit torque while compensating for misalignment.
Bellows Couplings: Bellows couplings use a bellows-like structure to allow for axial, angular, and parallel misalignment compensation.
Oldham Couplings: Oldham couplings use three discs, with the middle one having a perpendicular slot to allow for misalignment compensation.
How a Flexible Coupling Works:
The operation of a flexible coupling depends on its specific design, but the general principles are similar. Let's take the example of a jaw coupling to explain how a flexible coupling works:
Two shafts are connected to the coupling hubs on either side, with an elastomer spider placed between them.
When torque is applied to one shaft, it causes the spider to compress and deform slightly, transmitting the torque to the other shaft.
In case of misalignment between the shafts, the elastomer spider flexes and compensates for the misalignment, ensuring smooth torque transmission without imposing excessive loads on the shafts or connected equipment.
The elastomer spider also acts as a damping element, absorbing vibrations and shocks during operation, which reduces wear on the equipment and enhances system stability.
Overall, the flexibility and ability to compensate for misalignment are the key features that allow a flexible coupling to function effectively. The choice of a specific flexible coupling type depends on the application's requirements, such as torque capacity, misalignment compensation, and environmental conditions.



editor by CX 2023-09-13