Product Description
Type NM Rubber Coupling Made with Black CSM + SBR Rubber (3A2006)
| | | | |
| --- | --- | --- | --- |
| Material: | NBR, CSM/SBR | Color: | Black |
| Tensile Strength: | 12Mpa | Hardness: | 80shore A |
| Elongation: | 350% | Density: | 1.25g/cm3 |
| Size: | NM50, NM67, NM82, NM97, NM112, NM128, NM148, NM168, NM194, NM214, NM240, NM265 |   |   |
 
 
NM50-265 coupling , rubber coupling , polyurethane coupling for pumps, fans, compressors, vehicles, transporting equipme
 
NM coupling
NM type is precisely produced by a special designed synthetic rubber with 2 similar bodies of cast iron
Cast iron flanges:
Designed not only for the power transmission but also for protection of flexible rubber
Flexible rubber:Applications for pumps, fans, compressors, vehicles, transporting equipments, constructors, cement mixers, tractors, transmission machines, metal working machines, rollers and all other transmissions
Made of rubber and steel cores are inserted in the teeth so as to provide excellent durability and performance of coupling
 
Features:
Economical and practical using
Quiet and smooth operation
Easy installation and maintenance
Available to machines with high torque and intermittent operation
Characteristics of the synthetic rubber: proper elasticity and resistance to damping, oil, acids and alkalie
 
Specifications:
1: with CE certificate 
2: full detection of quality before delivery 
3: OEM is welcomed 
4: rich experience in precision casting
material: CSM/SBR, NBR
color: black.
surface: smooth
tensile strength: 12Mpa
hardness: 80Shore A
elongation: 400%
density: 1.25g/cm3
elasticity impact: >25%
tear strength: 35KN/m
working temperature: 100oC
standard size: 
NM50, NM67, NM82, NM97, NM112, NM128, NM148, NM168, NM194, NM214, NM240, NM265
Physical character: made by injection with high quality polyester or mould CSM/SBR. It is designing and special for all kinds of metal shaft coupling with very good performance of high tensile strength, high wear resistant, high elastic resilience, water resistant, oil resistant and excellent fatigue resilience, high impact resistant etc. We have full sets moulds and supply full range of GR, GS, MT, Hb, HRC, L, NM and Gear J series couplings with high quality and excellent experience. Apply to all kinds of industrial metal shaft coupling.
Specifications:
material: polyester, CSM/SBR
color: yellow, red, purple, green, black etc.
surface: smooth
tensile strength: 12-55Mpa
hardness: 80-98Shore A
elongation: 400%-650%
density: 1.25g/cm3
elasticity impact: >25%
tear strength: 35-155KN/m
akron abrasion loss: <0.05cm3/1.61km
compression set (22h*70oC): <10%
working temperature: 120oC
standard size for polyurethane coupling: 
GR14, GR19, GR24, GR28, GR38, GR42, GR48, GR55, GR65, GR75, GR90, GR100, GR110, GR125, GR140, GR160, GR180
MT1, MT2, MT3, MT4, MT5, MT6, MT7, MT8, MT9, MT10, MT11, MT12, MT13
HRC70, HRC90, HRC110, HRC130, HRC150, HRC180, HRC230, HRC280
L35, L50, L70, L75, L90/95, L99/100, L110, L150, L190, L225, L276
FALK-R 10R, 20R, 30R, 40R, 50R, 60R, 70R, 80R
standard size for rubber coupling:
Hb80, Hb95, Hb110, Hb125, Hb140, Hb160, Hb180, Hb200, Hb240, Hb280, Hb315
HRC70, HRC90, HRC110, HRC130, HRC150, HRC180, HRC230, HRC280
L35, L50, L70, L75, L90/95, L99/100, L110, L150, L190, L225
NM50, NM67, NM82, NM97, NM112, NM128, NM148, NM168, NM194, NM214, NM240, NM265
Gear 3J, 4J, 5J, 6J, 7J, 8J, 9J, 10J, 11J
special size build molding according to the buyer's drawings
***when you enquiry, pls confirm product's number and quantity***
| | |
| --- | --- |
| Standard: | DIN, ANSI, GB |
| Material: | Csm+SBR |
| Connection: | Flange |
| Surface Treatment: | Nothing |
| Head Type: | Round |
| Elongation: | 350% |
Samples:

US$ 10/Piece

1 Piece(Min.Order)

|
Request Sample
Customization:

Available

|

Customized Request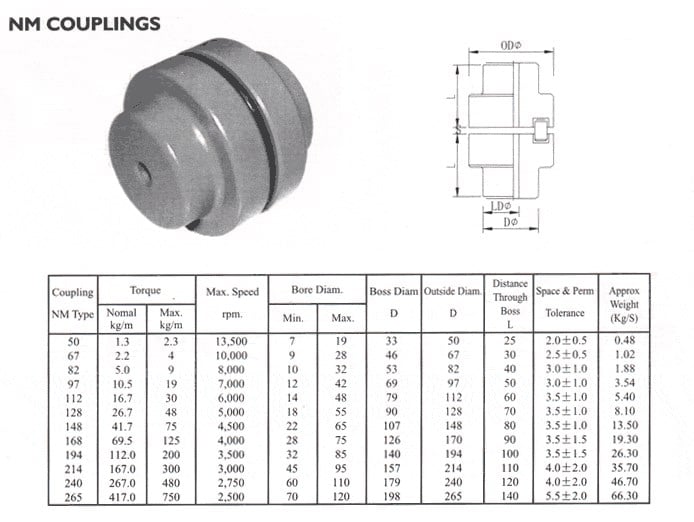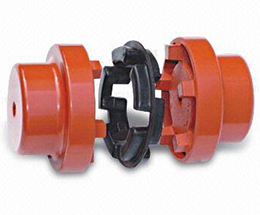 Can flexible couplings be used in both horizontal and vertical shaft arrangements?
Yes, flexible couplings can be used in both horizontal and vertical shaft arrangements. The design of flexible couplings allows them to accommodate misalignment and compensate for angular, parallel, and axial displacements between the shafts, making them suitable for various shaft orientations.
Horizontal Shaft Arrangements:
In horizontal shaft arrangements, where the shafts are parallel to the ground or horizontal plane, flexible couplings are commonly used to connect two rotating shafts. These couplings help transmit torque from one shaft to another while accommodating any misalignment that may occur during operation. Horizontal shaft arrangements are common in applications such as pumps, compressors, conveyors, and industrial machinery.
Vertical Shaft Arrangements:
In vertical shaft arrangements, where the shafts are perpendicular to the ground or vertical plane, flexible couplings are also applicable. Vertical shafts often require couplings that can handle the additional weight and forces resulting from gravity. Flexible couplings designed for vertical applications can support the weight of the rotating equipment while allowing for some axial movement to accommodate thermal expansion or other displacements. Vertical shaft arrangements are commonly found in applications such as pumps, gearboxes, turbines, and some marine propulsion systems.
Considerations for Vertical Shaft Arrangements:
When using flexible couplings in vertical shaft arrangements, there are a few additional considerations to keep in mind:
Thrust Load: Vertical shafts can generate thrust loads, especially in upward or downward direction. The flexible coupling should be selected based on its capacity to handle both radial and axial loads to accommodate these forces.
Lubrication: Some vertical couplings may require additional lubrication to ensure smooth operation and reduce wear, particularly if they are exposed to high axial loads or extended vertical shafts.
Support and Bearing: Proper support and bearing arrangements for the vertical shaft are essential to prevent excessive shaft deflection and ensure the flexible coupling functions correctly.
Overall, flexible couplings are versatile and adaptable to various shaft orientations, providing efficient power transmission and misalignment compensation. Whether in horizontal or vertical arrangements, using the appropriate flexible coupling design and considering the specific application requirements will help ensure reliable and efficient operation.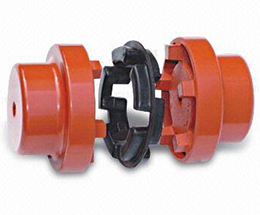 How does a flexible coupling impact the overall reliability of connected equipment?
A flexible coupling significantly impacts the overall reliability of connected equipment in several ways:
Misalignment Compensation: Flexible couplings can accommodate both angular and parallel misalignment between connected shafts. By allowing for misalignment, the coupling reduces the stress and wear on bearings, seals, and other rotating components. This feature prevents premature failure of these components, contributing to improved reliability and extended equipment lifespan.
Vibration Damping: Flexible couplings possess inherent damping properties due to their elastomeric or flexible elements. These elements absorb and dissipate vibrations generated during the operation of machinery. By dampening vibrations, the coupling protects the connected equipment from excessive oscillations, reducing fatigue and preventing mechanical failures. This enhanced vibration control increases the reliability of the system.
Shock Load Absorption: In applications with sudden load variations or shock loads, such as in heavy machinery or high-speed equipment, a flexible coupling acts as a shock absorber. It can absorb and dissipate the impact energy, protecting the machinery from damage caused by sudden loads. The ability to absorb shock loads contributes to the overall reliability of the connected equipment.
Reduced Wear and Tear: The flexibility of the coupling minimizes stress and wear on rotating equipment. It allows for slight movements and misalignments, reducing friction and stress on bearings and other critical components. This reduction in wear and tear lowers the frequency of maintenance and replacement, increasing the overall reliability of the equipment.
Compensation for Thermal Expansion: Temperature changes in machinery can lead to thermal expansion or contraction of shafts. A flexible coupling can compensate for these thermal effects, ensuring that the machinery remains properly aligned even as temperature conditions fluctuate. This compensation prevents binding and misalignment, promoting reliable performance.
Protection Against Overloads: Flexible couplings help protect connected equipment from overloads and torsional vibrations. They act as a mechanical fuse, disconnecting the driveline when an overload occurs, thus preventing damage to expensive machinery. This safety feature enhances the overall reliability and reduces the risk of catastrophic failures.
Easy Maintenance and Alignment: Flexible couplings are designed for easy installation and alignment. This feature simplifies maintenance procedures, making it easier to inspect and replace couplings when necessary. Properly aligned couplings lead to improved equipment performance and longevity, enhancing overall reliability.
By compensating for misalignment, damping vibrations, absorbing shock loads, reducing wear and tear, and providing other protective features, a flexible coupling significantly improves the reliability of connected equipment. It extends the lifespan of critical components, minimizes downtime, and ensures smooth and efficient operation, making it a valuable component in various industrial applications.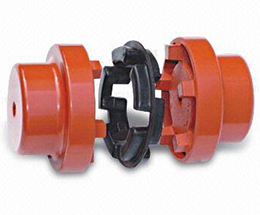 What is a flexible coupling and how does it work?
A flexible coupling is a mechanical device used to connect two shafts while allowing for relative movement between them. It is designed to transmit torque from one shaft to another while compensating for misalignment, vibration, and shock. Flexible couplings are essential components in various rotating machinery and systems, as they help protect the connected equipment and enhance overall performance.
Types of Flexible Couplings:
There are several types of flexible couplings, each with its unique design and characteristics. Some common types include:
Jaw Couplings: Jaw couplings feature elastomer spiders that fit between two hubs. They can accommodate angular and parallel misalignment while dampening vibrations.
Disc Couplings: Disc couplings use thin metallic discs to connect the shafts. They are highly flexible and provide excellent misalignment compensation.
Gear Couplings: Gear couplings use gear teeth to transmit torque. They offer high torque capacity and can handle moderate misalignment.
Beam Couplings: Beam couplings use a single piece of flexible material, such as a metal beam, to transmit torque while compensating for misalignment.
Bellows Couplings: Bellows couplings use a bellows-like structure to allow for axial, angular, and parallel misalignment compensation.
Oldham Couplings: Oldham couplings use three discs, with the middle one having a perpendicular slot to allow for misalignment compensation.
How a Flexible Coupling Works:
The operation of a flexible coupling depends on its specific design, but the general principles are similar. Let's take the example of a jaw coupling to explain how a flexible coupling works:
Two shafts are connected to the coupling hubs on either side, with an elastomer spider placed between them.
When torque is applied to one shaft, it causes the spider to compress and deform slightly, transmitting the torque to the other shaft.
In case of misalignment between the shafts, the elastomer spider flexes and compensates for the misalignment, ensuring smooth torque transmission without imposing excessive loads on the shafts or connected equipment.
The elastomer spider also acts as a damping element, absorbing vibrations and shocks during operation, which reduces wear on the equipment and enhances system stability.
Overall, the flexibility and ability to compensate for misalignment are the key features that allow a flexible coupling to function effectively. The choice of a specific flexible coupling type depends on the application's requirements, such as torque capacity, misalignment compensation, and environmental conditions.



editor by CX 2023-08-09