Product Description
Type NM Rubber Coupling Made with Black CSM + SBR Rubber (3A2006)
| | | | |
| --- | --- | --- | --- |
| Material: | NBR, CSM/SBR | Color: | Black |
| Tensile Strength: | 12Mpa | Hardness: | 80shore A |
| Elongation: | 350% | Density: | 1.25g/cm3 |
| Size: | NM50, NM67, NM82, NM97, NM112, NM128, NM148, NM168, NM194, NM214, NM240, NM265 |   |   |
 
 
NM50-265 coupling , rubber coupling , polyurethane coupling for pumps, fans, compressors, vehicles, transporting equipme
 
NM coupling
NM type is precisely produced by a special designed synthetic rubber with 2 similar bodies of cast iron
Cast iron flanges:
Designed not only for the power transmission but also for protection of flexible rubber
Flexible rubber:Applications for pumps, fans, compressors, vehicles, transporting equipments, constructors, cement mixers, tractors, transmission machines, metal working machines, rollers and all other transmissions
Made of rubber and steel cores are inserted in the teeth so as to provide excellent durability and performance of coupling
 
Features:
Economical and practical using
Quiet and smooth operation
Easy installation and maintenance
Available to machines with high torque and intermittent operation
Characteristics of the synthetic rubber: proper elasticity and resistance to damping, oil, acids and alkalie
 
Specifications:
1: with CE certificate 
2: full detection of quality before delivery 
3: OEM is welcomed 
4: rich experience in precision casting
material: CSM/SBR, NBR
color: black.
surface: smooth
tensile strength: 12Mpa
hardness: 80Shore A
elongation: 400%
density: 1.25g/cm3
elasticity impact: >25%
tear strength: 35KN/m
working temperature: 100oC
standard size: 
NM50, NM67, NM82, NM97, NM112, NM128, NM148, NM168, NM194, NM214, NM240, NM265
Physical character: made by injection with high quality polyester or mould CSM/SBR. It is designing and special for all kinds of metal shaft coupling with very good performance of high tensile strength, high wear resistant, high elastic resilience, water resistant, oil resistant and excellent fatigue resilience, high impact resistant etc. We have full sets moulds and supply full range of GR, GS, MT, Hb, HRC, L, NM and Gear J series couplings with high quality and excellent experience. Apply to all kinds of industrial metal shaft coupling.
Specifications:
material: polyester, CSM/SBR
color: yellow, red, purple, green, black etc.
surface: smooth
tensile strength: 12-55Mpa
hardness: 80-98Shore A
elongation: 400%-650%
density: 1.25g/cm3
elasticity impact: >25%
tear strength: 35-155KN/m
akron abrasion loss: <0.05cm3/1.61km
compression set (22h*70oC): <10%
working temperature: 120oC
standard size for polyurethane coupling: 
GR14, GR19, GR24, GR28, GR38, GR42, GR48, GR55, GR65, GR75, GR90, GR100, GR110, GR125, GR140, GR160, GR180
MT1, MT2, MT3, MT4, MT5, MT6, MT7, MT8, MT9, MT10, MT11, MT12, MT13
HRC70, HRC90, HRC110, HRC130, HRC150, HRC180, HRC230, HRC280
L35, L50, L70, L75, L90/95, L99/100, L110, L150, L190, L225, L276
FALK-R 10R, 20R, 30R, 40R, 50R, 60R, 70R, 80R
standard size for rubber coupling:
Hb80, Hb95, Hb110, Hb125, Hb140, Hb160, Hb180, Hb200, Hb240, Hb280, Hb315
HRC70, HRC90, HRC110, HRC130, HRC150, HRC180, HRC230, HRC280
L35, L50, L70, L75, L90/95, L99/100, L110, L150, L190, L225
NM50, NM67, NM82, NM97, NM112, NM128, NM148, NM168, NM194, NM214, NM240, NM265
Gear 3J, 4J, 5J, 6J, 7J, 8J, 9J, 10J, 11J
special size build molding according to the buyer's drawings
***when you enquiry, pls confirm product's number and quantity***
| | |
| --- | --- |
| Standard: | DIN, ANSI, GB |
| Material: | Csm+SBR |
| Connection: | Flange |
| Surface Treatment: | Nothing |
| Head Type: | Round |
| Elongation: | 350% |
Samples:

US$ 10/Piece

1 Piece(Min.Order)

|
Request Sample
Customization:

Available

|

Customized Request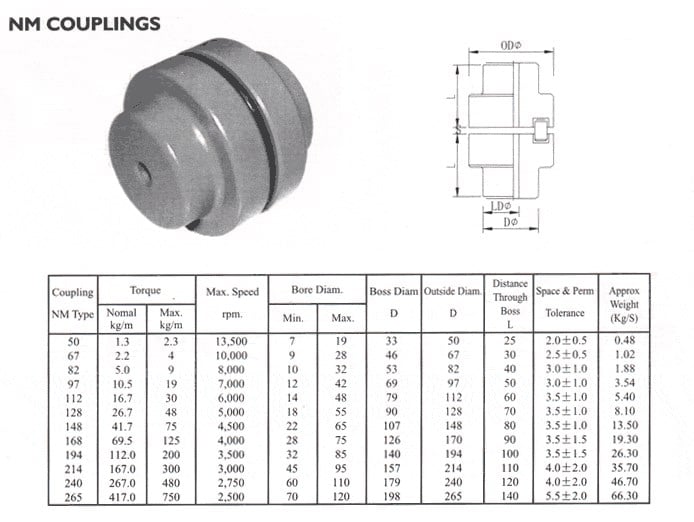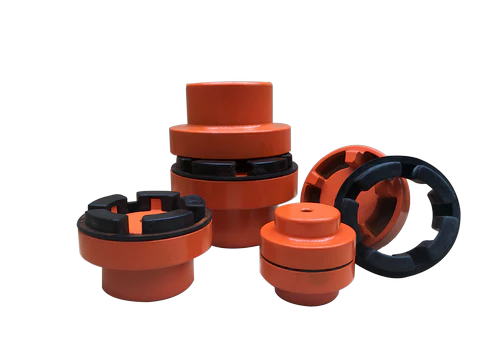 What industries commonly use flexible couplings for power transmission?
Flexible couplings are widely used in various industries for power transmission and motion control applications. Their ability to accommodate misalignment, dampen vibrations, and protect equipment from shock loads makes them valuable components in many industrial processes. Here are some of the industries that commonly utilize flexible couplings:
Manufacturing: Flexible couplings are extensively used in manufacturing industries such as automotive, aerospace, electronics, and consumer goods production. They play a critical role in transmitting power between motors and various machinery, including conveyor systems, robots, and assembly lines.
Oil and Gas: In the oil and gas industry, flexible couplings are used in pumps, compressors, turbines, and generators. They help transfer power in offshore platforms, refineries, pipelines, and drilling operations while compensating for the dynamic nature of these applications.
Power Generation: Power plants, both conventional and renewable, rely on flexible couplings to transmit power from turbines and generators to electrical generators. They are used in coal-fired, natural gas, nuclear, hydroelectric, and wind power plants.
Mining: In mining operations, flexible couplings are employed in various equipment, including conveyor systems, crushers, and large industrial pumps. They are designed to withstand the heavy loads and harsh conditions commonly found in mining environments.
Marine: Flexible couplings are essential in marine propulsion systems, connecting engines to propellers or water jets. They also find use in shipboard machinery, auxiliary systems, and offshore applications.
Pulp and Paper: The pulp and paper industry relies on flexible couplings in machinery used for wood processing, pulp production, papermaking, and printing processes.
Chemical and Petrochemical: In chemical plants and petrochemical refineries, flexible couplings are utilized in pumps, mixers, agitators, and other rotating equipment to ensure efficient power transmission and protect sensitive machinery.
Construction: The construction industry employs flexible couplings in various equipment, such as concrete pumps, cranes, excavators, and drilling machines.
Water and Wastewater: Flexible couplings are used in water treatment plants, wastewater facilities, and irrigation systems to transfer power between motors and pumps.
Agriculture: In agricultural machinery, flexible couplings are utilized in tractors, harvesters, and irrigation systems, enabling efficient power transmission and operation.
The versatility and adaptability of flexible couplings make them indispensable components in a wide range of industries, contributing to increased equipment reliability, reduced downtime, and improved overall system performance.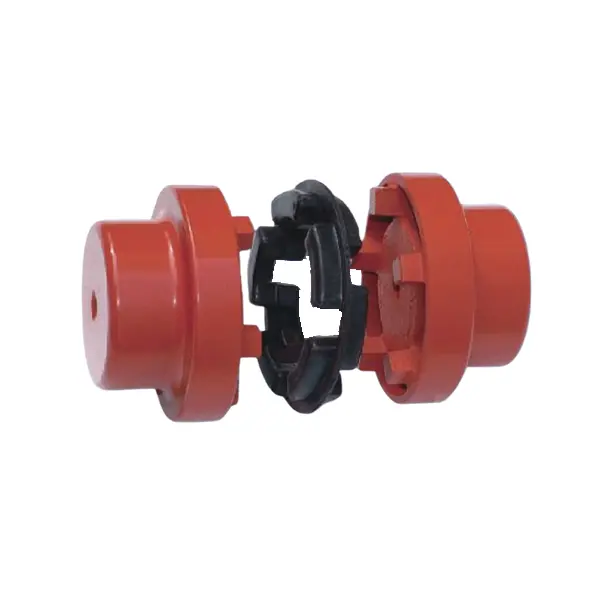 Can flexible couplings be used in applications with varying operating temperatures?
Yes, flexible couplings can be used in applications with varying operating temperatures. The suitability of a flexible coupling for a specific temperature range depends on its design and the materials used in its construction. Different types of flexible couplings are available to handle a wide range of temperature conditions, making them versatile for use in various industries and environments.
High-Temperature Applications:
For applications with high operating temperatures, such as those found in certain industrial processes, exhaust systems, or high-temperature machinery, flexible couplings made from materials with excellent heat resistance are used. These materials may include stainless steel alloys, heat-treated steels, or specialized high-temperature elastomers. High-temperature flexible couplings are designed to maintain their mechanical properties, including flexibility and torque transmission capabilities, even at elevated temperatures.
Low-Temperature Applications:
Conversely, for applications in extremely cold environments or cryogenic processes, flexible couplings constructed from materials with low-temperature resistance are employed. These couplings are designed to remain flexible and functional at very low temperatures without becoming brittle or losing their ability to handle misalignment. Some low-temperature couplings may use special polymers or elastomers with excellent cold-temperature performance.
Temperature Range Considerations:
When selecting a flexible coupling for applications with varying operating temperatures, it is essential to consider the specific temperature range in which the coupling will operate. Some flexible couplings have a wider temperature range, allowing them to function effectively in both high and low-temperature environments. However, in extreme temperature conditions, specialized couplings may be necessary to ensure reliable performance and prevent premature failure.
Manufacturer Guidelines:
Manufacturers of flexible couplings provide guidelines and specifications regarding the temperature range of their products. It is crucial to consult the manufacturer's documentation to ensure that the chosen coupling is suitable for the intended operating temperature of the application. Using a coupling beyond its recommended temperature range can lead to performance issues, reduced efficiency, or even failure.
Applications:
Flexible couplings with varying temperature resistance find use in numerous industries, including aerospace, automotive, manufacturing, power generation, and more. Whether in high-temperature exhaust systems, low-temperature cryogenic processes, or regular industrial applications with temperature fluctuations, flexible couplings play a vital role in providing reliable power transmission and misalignment compensation.
In summary, flexible couplings can be effectively used in applications with varying operating temperatures, provided that the coupling's design and material properties align with the specific temperature requirements of the application.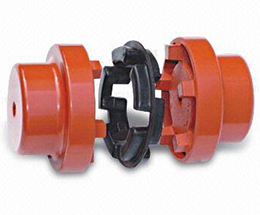 What is a flexible coupling and how does it work?
A flexible coupling is a mechanical device used to connect two shafts while allowing for relative movement between them. It is designed to transmit torque from one shaft to another while compensating for misalignment, vibration, and shock. Flexible couplings are essential components in various rotating machinery and systems, as they help protect the connected equipment and enhance overall performance.
Types of Flexible Couplings:
There are several types of flexible couplings, each with its unique design and characteristics. Some common types include:
Jaw Couplings: Jaw couplings feature elastomer spiders that fit between two hubs. They can accommodate angular and parallel misalignment while dampening vibrations.
Disc Couplings: Disc couplings use thin metallic discs to connect the shafts. They are highly flexible and provide excellent misalignment compensation.
Gear Couplings: Gear couplings use gear teeth to transmit torque. They offer high torque capacity and can handle moderate misalignment.
Beam Couplings: Beam couplings use a single piece of flexible material, such as a metal beam, to transmit torque while compensating for misalignment.
Bellows Couplings: Bellows couplings use a bellows-like structure to allow for axial, angular, and parallel misalignment compensation.
Oldham Couplings: Oldham couplings use three discs, with the middle one having a perpendicular slot to allow for misalignment compensation.
How a Flexible Coupling Works:
The operation of a flexible coupling depends on its specific design, but the general principles are similar. Let's take the example of a jaw coupling to explain how a flexible coupling works:
Two shafts are connected to the coupling hubs on either side, with an elastomer spider placed between them.
When torque is applied to one shaft, it causes the spider to compress and deform slightly, transmitting the torque to the other shaft.
In case of misalignment between the shafts, the elastomer spider flexes and compensates for the misalignment, ensuring smooth torque transmission without imposing excessive loads on the shafts or connected equipment.
The elastomer spider also acts as a damping element, absorbing vibrations and shocks during operation, which reduces wear on the equipment and enhances system stability.
Overall, the flexibility and ability to compensate for misalignment are the key features that allow a flexible coupling to function effectively. The choice of a specific flexible coupling type depends on the application's requirements, such as torque capacity, misalignment compensation, and environmental conditions.



editor by CX 2023-09-18